Metal Building Construction, Bryan-Navasota-Brenham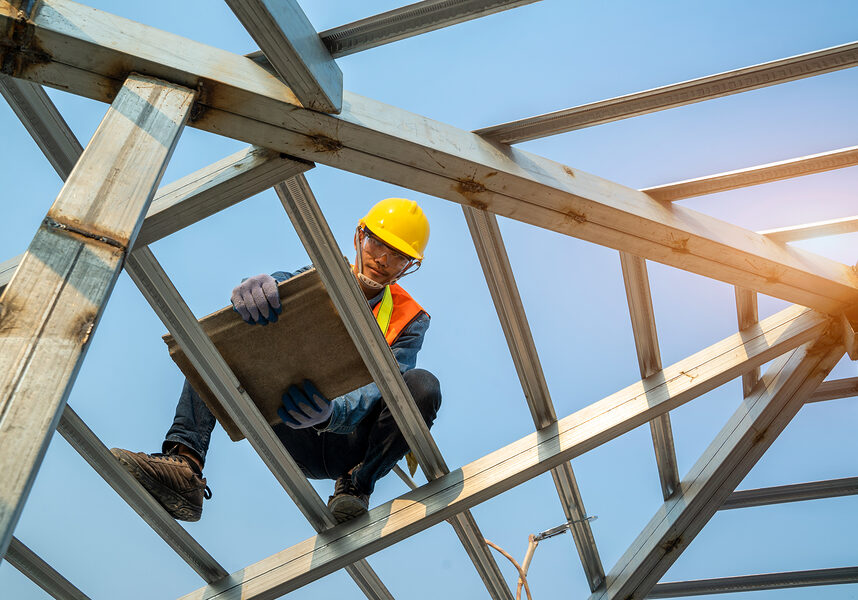 In business since 2014, our company has constructed many metal buildings of many types and sizes. Beginning in Navasota, Texas, and expanding to the surrounding region, we provide consistent levels of quality and workmanship. Ever since we were a new start-up company we built projects as small as Pool Decks, Patio Covers, Fire Pits and Pergolas – now that we have grown over the years we specialize in Metal Buildings and enjoy building Residences, Stamped and Stained Concrete, Barndominums, Commercial Shops, and even Airplane Hangers. We invite you to browse our website to learn more about what we can do for you. From the initial dirt work and concrete foundation through to the completed project including electrical, plumbing, HVAC, and interior finishes. So sit back, relax, and prepare for a journey that will change the way you view the entire construction industry.
About Us
Quality and belief. These are the two words we think the best sum up what we are about at Metal Building Construction Pros. We demand of ourselves daily that we should offer our clients nothing but the best of the best. No matter the size of the job, and no matter what it takes. We are able to do this because we have a strong belief in what we do. We want clients to experience real value for their hard-earned money. It is the right thing to do, and we are always willing to go the extra mile to build quality in.
Our Services
Now that we have gotten all the formalities out of the way, it is time to get on with business. When it comes to metal structures of any sort, you need to look no further than the wide variety of top-notch solutions we have to offer. At each stage of the process we have experienced and knowledgeable hands that have only one goal, to make sure your construction plans are followed precisely and in budget.  We don't just want to sell you something, we want to build a relationship with you. One that benefits us both and lasts for many years to come.
Metal Building Construction
Building with metal is quite popular and has many advantages including design flexibility, energy savings, durability; resistance to storms and wind; ease and economy of installation, and quick construction in all seasons. Also low maintenance and fewer repairs than other building materials. To see for yourself exactly what this solution includes and the value you can extract, just give us a shout today. You may just be pleasantly surprised by what you find.
We take pride to provide our commercial clients with that range of structures they need. One needs to keep in mind that the needs of commercial clients can vary vastly depending on the solutions or services they offer. This in turn means that our structures need to be multi-faceted as well as long-lasting and packed with value. Finally, steel structures form a strong protective envelope for the interior contents – and the people using the building. Call us today to learn more about a steel solution for you!
Metal construction in residential homes grows in popularity and in customer satisfaction. A variety of exterior styles for walls and roofing are available for architects, builders and individuals. Your metal roof can resemble wood shake, slate, shingles, or clay tiles. Likewise, walls, entrances, window frames, and long-reach ceiling frames for open living spaces – the flexibility of metal building design increases every year. For comfort, appearance, strength, energy savings, and economy, metal buildings are right at home! Let's consult today about your plans.
Our light industrial steel structures come in a host of different designs, and they offer many benefits. From manufacturing to warehousing to climate-controlled storage and more, metal building systems deliver wide-open floor bays, fire resistance, energy efficiency, and long-term economy. Let's visit and you'll see the value in what we have to offer.
For all the agricultural clients out there, this solution is tailor-made to look after every single need you have. We don't care what structure you need, you can bet your bottom dollar we will be able to deliver. We can deliver a metal building solution for you - Barns, Poultry Coops, Loafing Sheds, Equipment Storage, Hay & Feed Storage, Cold Storage, Dairy Barns, Riding Arenas, and more. We would be honored to work with you on your Farm and Ranch structures.
You may know what a pond is, but we find that very few clients know what dirt work entails. To put it simply, have you ever wondered why the water does not just seep into the ground when you fill a pond?   It begins by mapping the land and the water source, getting permits. Then a skilled operator moves the soil, subsoil, and sometimes underlying rock. The pond bottom surface must be impervious to retain water. More to it than at first thought! Have a look at what our solutions can offer then call us today.
"We were opening a new shop and to be honest we were never sure if we could trust the local construction industry to take care of our needs. We are so happy we were wrong, and we could not be happier with the solutions you were able to offer. " –  W.Stevenson
"All I want to do is grow my crops and feed my family. The machines I use are a means to an end , but I need to make sure they are looked after So I decided I needed a place to store them and man did the guys at Metal Building Construction Pros step up to the challenge. .  " – S.Thompson
"We have been using you guys since you started and we could not be happier with your success. You deserve it, and we will be telling everyone we know about the excellence you can offer. We wish you all the best and  see you soon. " – Y.Lawson
We can go on forever and ever when it comes to excellence that we can provide. We do however know that talk is cheap, and if you want to know if something or someone can deliver, the best thing to do is test them. This is precisely what we want you to do. Use any one of our communications channels and let us know what you need. Our experts can't wait to show you that we can deliver each and every time. Your dreams will become a reality sooner rather than later.