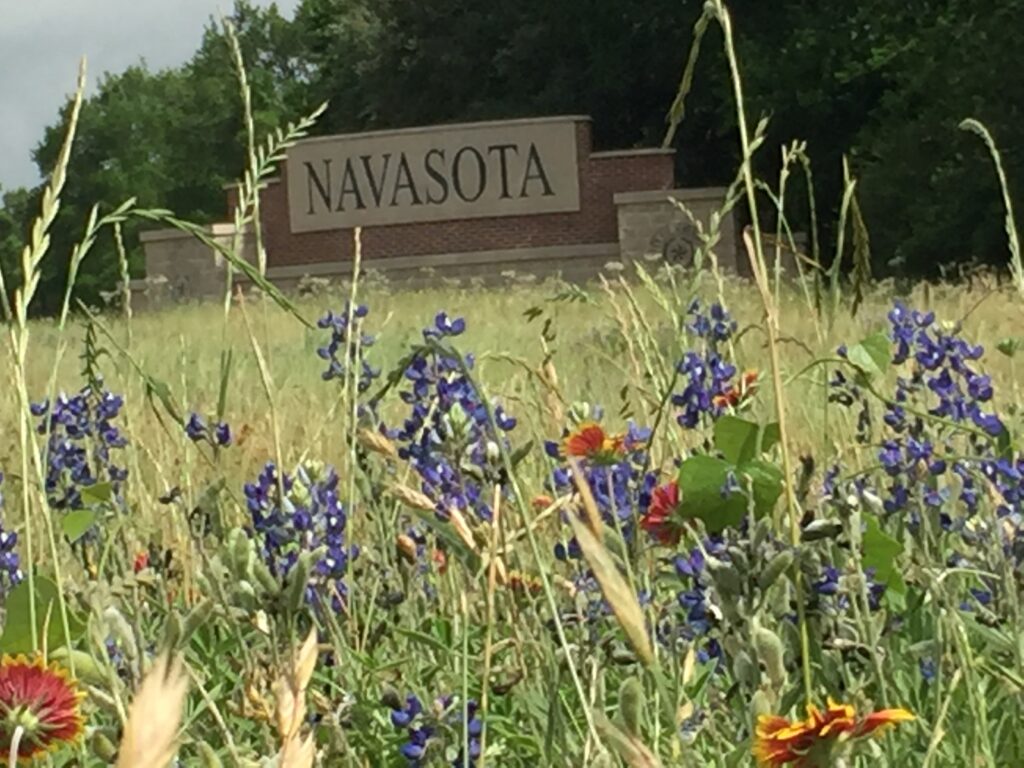 About the Communities We Serve
Many new residents and businesses move to Navasota and Grimes County each year, who may like to read about local history, so this page is furnished to supply highlights of the story of the area.
A Brief History Of Navasota, Texas      
Navasota's story basically begins during the 1600's and 1700's when France and Spain challenged each other for supremacy in land claims in the New World. The Spanish became concerned about the navigations of esteemed French explorer LaSalle (full name: René-Robert Cavelier, Sieur de La Salle) and his several expeditions to map the Mississippi River, because the Spanish Crown already claimed lands that LaSalle traversed.
During LaSalle's fifth New World expedition the misfortunes of sailing uncharted waters befell the crew and they were washed ashore near Matagorda Bay. LaSalle directed the exploration group to the area of current-day Navasota. Five of his men lacked LaSalle's stout character, and under the difficult conditions they grew mutinous. They showed their hand as blackguard scoundrels and murdered LaSalle's nephew. Knowing that LaSalle would impose justice on them for their crime, they ambushed and murdered LaSalle. The foul mutineers piled further injustice by leaving LaSalle's body to the wild animals. The intrepid navigator-explorer LaSalle's life tragically ended at the mere age of 43. Yet, his impact on North America was tremendous.
The several European crowns had ambitions to acquire new territory in the New World. The area of current day Navasota would become part of New Spain, even though LaSalle had claimed for France great swathes of land on both sides of the Mississippi. As time passed, the people of New Spain grew unhappy with Spanish rule and Mexico became independent in 1821. In turn, Mexico's original federal constitution was ignored by ambitious Santa Anna and several states of Mexico rebelled against his heavy-handed centralized rule. Texas earned its independence in 1836 on the field of honor near San Jacinto.
About a decade prior to Sam Houston and the rag-tag Texas Army making history, a pioneer came to the wilderness in 1822. Francis Holland bought land in what would become Grimes County, on a bend of the Navasota River. The first name for Navasota was Hollandale. As more homesteading pioneers arrived the community grew. Two arrivals who also gained tracts of riverside land were Daniel Tyler and Daniel Arnold. People sought riverside property as rivers were the best transportation in those days before many roads existed. The list of founding families grew and includes Caleb Wallace, Jared E. Groce, Isaac Jackson, Anthony Kennard, James Whiteside, Francis Holland, and Jesse Grimes who signed the Texas Declaration of Independence. Grimes County is named in his honor.
Another pioneer arrival helped shaped Navasota; James Nolan from Mississippi attained land near Hollandale. As he worked his land, in 1854 the U.S. Postal Service established an office nearby. Shortly after, the town name was changed to Navasota. Nolan constructed the earliest stagecoach stop for the area, in 1855. As the railroad planned its route, Nolan also deeded land from his stage stop to the Houston and Texas Central Railroad, which decided to build its line to Navasota. This created an important place for shipping farm products, livestock, and timber out of Navasota. Also, passenger traffic helped grow the area.     
(continued below photos)
The Navasota River meanders so it has deposited many areas of deep, rich, topsoil. Great forests grew up from the fertile land. Lumber harvesting was highly successful. Area farmers found they could produce vital cash crops of cotton and corn. Additionally, farmers prospered with great herds of sheep, cattle, and hogs. So the map showed six towns thriving in the county by 1850: Navasota, Anderson, Prairie Plains, Bedias, Grimesville, Retreat. Spas were built on the natural springs found at Kellum Springs and Piedmont Springs.               
As 1860 approached, so also did the burdens of war. When peace returned, recovery was slow. Disease struck hard as both Cholera and Yellow Fever outbreaks caused many residents to leave for the countryside to wait out the epidemics. When those illnesses ran their course the rebuilding resumed in earnest. Waves of Americans moved to Texas from other states including Louisiana, Alabama, Georgia, Mississippi and brought hard-working farmers, shopkeepers, tradesmen. Liberty-seeking new arrivals from Germany and Poland also helped build the area. In the 1880's several agribusinesses flourished, being a cottonseed mill, two flour mills, several steam powered cotton gins. Also a bank, five churches, and an opera house. Around 1885 the town greeted electric lighting, a water system, and a second railroad line and a telephone company.
About 3,500 residents called Navasota home in 1896. Another major help was a railroad line to Fort Worth, the town's third line, built by the International & Great Western Railway in 1900. The paving of State Highway 6 improved mobility and transportation.  
Mexico contributed migrant workers after WWI ended in 1918. As the 1930's depression caused farm mechanization to spread and reduced the need for farm labor. Further into the 1940's improved farm practices also led to diversity in crops. The population of Grimes County fell by 31% due to fewer farm jobs near Navasota and increased jobs in Houston, where many people moved. As decades passed, the improved farming by the 1970's flourished to include: Christmas Trees, watermelons, small grains, pecans, sorghum, soybeans, sweet potatoes, and potatoes. Commercial beekeeping also grew to become significant by the 1980's.
(Continued below photo)
The local industrial sector benefitted from establishing the Navasota Industrial Foundation in 1952. That same year Oil and Natural Gas was discovered, followed by larger oil and gas finds in the 1970's on through to the 1980's. Businesses in mobile home, steel tubing, cheese, oilfield machinery, and furniture also grew from 1967 to 1982.
A Great Place to Live and Work
Downtown renewal came to Navasota's historic main street district in 1980, due to collaboration by local leaders with the National Trust for Historic Preservation in the National Main Street program. A variety of spaces to house restaurants, offices, shops, and retail were both renovated and built. An attractive city hall has room to accommodate Navasota's future growth and care of the city.
Many families are pleased to call Navasota home. The combination of spaciousness, beautiful nearby countryside, a re-developing main street district, and affordable housing welcome all who investigate. Plentiful jobs and careers are supported by economic growth across the region, also making Navasota a great place to start up a business. The dedication of residents supporting the public school district provides young people with great educational opportunities.
Quality health care is ample, with many doctor's and dentist's offices and the Grimes St. Joseph Health Center Hospital and other clinics covering many medical needs. Recreation beckons families when work is over for the day. Well maintained parks offer spaces and playgrounds for the children and relaxation and picnicking for the entire family. Sports leagues in the variety of sports are open for young people to compete. The Navasota Swim Team hosts meets at the beautiful city pool. Throughout the year, several festivals entertain the public, along with Navasota's heritage of live performance music. All adding up to making Navasota a great place to stake your future!